January 30, 2011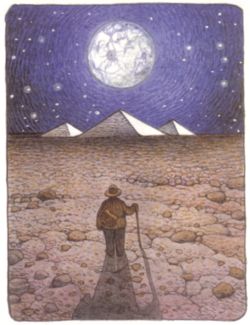 The boy continued to listen to his heart as they crossed the desert …He lost his fear, and forgot about his need to go back to the oasis, because, one afternoon, his heart told him he was happy.
"Even though I complain sometimes," it said, "it's because I'm the heart of a person, and people's hearts are that way. People are afraid to pursue their most important dreams, because they feel that they don't deserve them, or that they'll be unable to achieve them. We, their hearts, become fearful just thinking of loved ones who go away forever, or of moments that could have been good but weren't, or of treasures that might have been found but were forever hidden in the sands. Because, when these things happen we suffer terribly."
"My heart is afraid that it will have to suffer," the boy told the alchemist one day as they looked up at the moonless sky.
"Tell your heart that the fear of suffering is worse than the suffering itself. And that no heart has ever suffered when it goes in search of its dreams, because every second of the search is a second's encounter with God and with eternity."
That night, his heart began to tell him things that came from the soul of the world.
"Everyone on earth has a treasure that awaits him," his heart said. "We, people's hearts, seldom say much about those treasures, because people no longer want to go in search of them. We speak of them only to children … Most people see the world as a threatening place, and, because they do, the world turns out, indeed, to be a threatening place. So, we, their hearts, speak more and more softly. We never stop speaking out, but we begin to hope that our words won't be heard. We don't want people to suffer because they don't follow their hearts.
"Why don't people's hearts tell them to continue to follow their dreams?" the boy asked the alchemist.
"Because that's what makes the heart suffer most, and hearts don't like to suffer."
From then on, the boy understood his heart. He asked it, please, never stop speaking to him. He asked that, when he wandered far from his dreams, his heart press him and sound the alarm. The boy swore that, every time he heard the alarm, he would heed its message.
-Paul Coelho
Artwork by Moebius